SUPPLY AND DISTRIBUTION OF NETS
Ribola designs, installs, customises and manufactures. But that's not all: the company provides logistics and warehousing services.
The Retificio Ribola net manufacturer produces knotless nets and boasts a production capacity of several tonnes of product per month.

Our experience and top craftsmanship skills enables us to provide tailor-made products according to both the intended field of application (aquaculture, sport, entertainment, building industry, design industry, etc.) and to specific needs. Our company has the full capability to provide services ranging from consultancy and design to final delivery – in some cases including installation.
This enable us to take care of all the manufacturing stages and to share all decisions with the Customers in the framework of a full-service, thus preventing the customer from having to deal with several partners and players.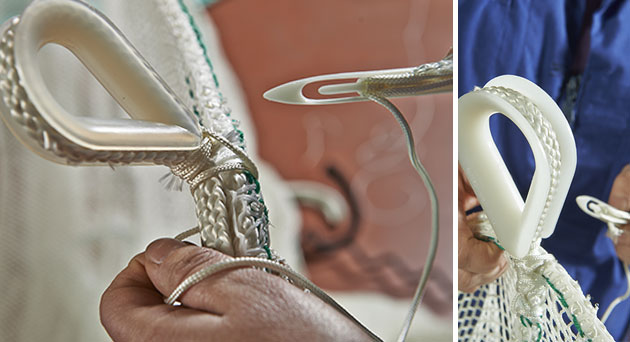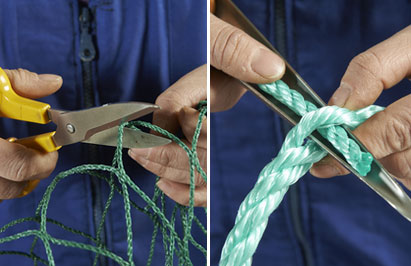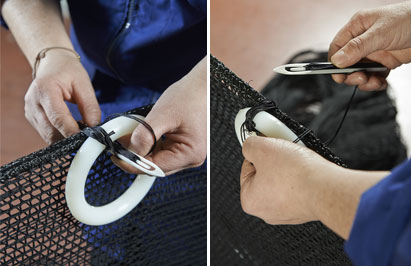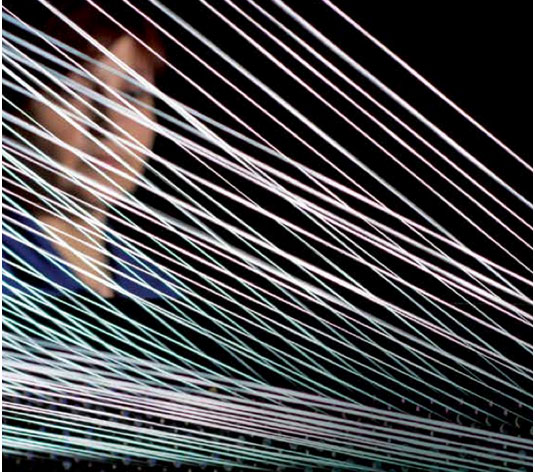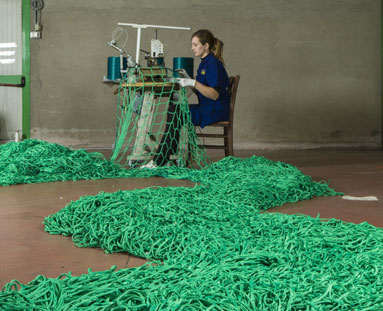 CUSTOMISATION
Design and co-design of nets and fences for any application, including design projects.
Our manufacturing department conceives and develops any kind of yarn combination. We are keen on research and modify our products in order to find advanced solutions suited to meeting customers' needs, according to the intended sector for application and to product use requirements. Upon request, specific product types, materials, colours and volumes are manufactured outside of the common manufacturing standards. This attitude enables us to provide both flexibility and versatility while supplying products indented for several applications, both in the traditional fields of net application as well as in any other field where a particular net may be necessary to satisfy specific needs, including architecture and design firms.
PROVISION OF SAMPLES
Pre-ordered samples for large volumes are always a guarantee
Ribola provides free samples of nets upon Customer's request. The samples enables us to asses the validity of the selection and to consider – along with the Customer – whether to confirm the order or to modify the product, if necessary, while also benefiting from the consultancy Ribola is able to offer its customers.
CONSULTANCY SERVICE IN TAILORING
Ribola's experience and commitment at your service.
The long-standing experience in the field of tailoring enables Ribola to provide Customers with an additional consulting service, both during the manufacturing stage – aimed at assisting the Customer in finding the best net, according to their needs – and the tailoring stage, recommending manufacturing details that are best suited to their needs.
CUSTOM-MADE SQUARE-MESH NETS
A special knotless square-mesh processing.
The Retificio Ribola's staff is able to produce square-mesh nets for nets of any sizes, upon the Customer's request. Nets are supplied in square-mesh, tailor-made, by means of machine or handmade sewing, according to the Customers' needs.
SEMI-FINISHED TAILORING
We deliver what Customers want, even semi-finished nets
Any product may be supplied as semi-finished product: based on the customer's instructions, nets may be square-mesh, sewed, welded, semi-finished and fitted with accessories. We also provide custom-design semi-processed tailor-made and sewn products.
POST-SALES SUPPORT
Post-sales service
Ribola also ensures its Customers are provided with post-sales support, aimed at offering ongoing assistance according to any Customer needs. This service enables us to assess the changes to be made to further supply volumes, together with the Customer. The service includes consultancy for the installation or use of the finished product. Certain products come with user instruction manuals. For some products, annual tests are carried out, aimed at guaranteeing the effectiveness of the net. Tests are carried out by an internal accredited laboratory.