NETS FOR< ENTERTAINMENT AND LEISURE TIME
Net panels for entertainment.
Finished products: springboards, backstop nets, nets for golf practice

The expertise and fantasy distinguishing Retificio Ribola's tailoring and manufacturing department have enabled us to manufacture, tailor and market online nets for entertainment, outdoor activities and leisure time over the years.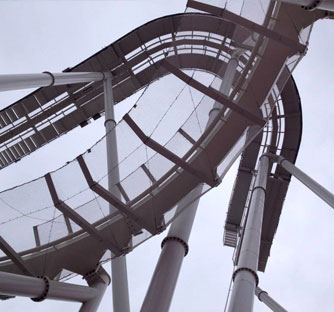 The nets for entertainment include knotless hammocks for a greater comfort and enjoyment, as well as patented springboards or trampolines, which have been very successful on beaches, in parks and funfairs over the years.

NET PANELS
Retificio Ribola also provides net panels for entertainment and leisure upon customer's request.
continue »

FINISHED PRODUCTS
Springboard nets or trampoline are among the most popular entertainment and leisure nets. They are generally requested in yellow or blue colour, which for years have been synonymous with having fun on beaches, in parks and funfairs.
continue »