NETS AND COVERS FOR WASTE COLLECTION TRUCKS
Net panels for trucks.
Finished products: fixed weave nets for trucks, mesh nets, PVC covers.

Coverage of ferrous or non-ferrous solid waste ensures safe loading and transport, in compliance with the Traffic Code. Retificio Ribola supplies different kinds of nets and covers for trucks and waste, all high-tenacity and UV-ray resistant. A technician is available for support in purchasing the net and cover most suitable to the customer's needs.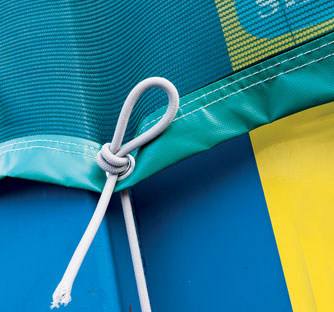 The Retificio Ribola's online purchase service for nets and covers for waste collection trucks offers tear-proof covers for ferrous materials, waterproof PVC covers, standard covers, micro-perforated covers and mesh nets. All of the covers are tailored to measure and finished with PVC high-resistance borders or triple folded hem. The elastic rope for laying may also be supplied separately.

NET PANELS
Retificio Ribola's manufacturing provides customers with net and cover panels.
continue »

FINISHED PRODUCTS
Retificio Ribola provides and tailors nets and covers for the cargo beds of trucks and articulated lorries, as well as covers for containers and waste bins.
continue »

ACCESSORIES
The wide range of nets and covers for trucks, containers and waste bins includes elastic rope for proper laying.
continue »