AVIARY AND ANTI BIRD NETS
Aviary net panels.
Finished products: standard and extra aviary anti-bird nets

Our aviary nets are manufactured with the utmost care for detail, wear-resistant and resistant to animals, without posing a risk to them.
We manufacture nets featuring different mesh sizes and versions to be placed on the ground, specific for henhouses.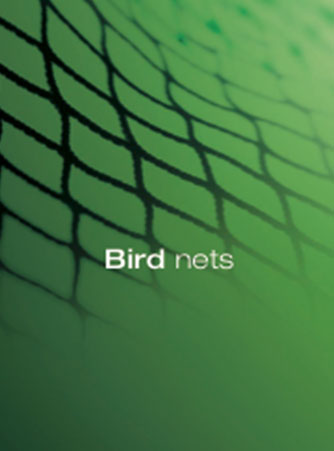 All the aviary and anti-bird nets, nets suitable for farming and game nets are woven with high-tenacity, UV-ray treated yarns featuring high resistance against weather conditions. The quality is ensured by the choice of raw material and the whole manufacturing and heat setting process. The on line service for purchasing aviary nets enables the manufacturing of custom-design and tailor-made nets, which are then supplied ready for installation.

NET PANELS
Aviary net panels are knotless woven nets with top quality polyethylene lock weave or high- tenacity PA + PE blended weave.
continue »

FINISHED PRODUCTS
Retificio Ribola's aviary nets are among the most popular products on the market. The manufacturing department produces nets woven with lock weave, with high-tenacity UV-ray treated yarns suitable for outdoor use.
continue »

ACCESSORIES
Aviary net accessories
continue »