ANTI-JELLYFISH AND ANTI-ALGAE BARRIER NETS
Anti-jellyfish and anti-algae barrier.
Finished products: Medusa-net patented barrier, floating

Retificio Ribola has been manufacturing and tailoring synthetic fibre nets for three generations, ranging from traditional sports nets to building industry and aquaculture nets. The expertise acquired in the field of aquaculture and maritime nets has enabled us to conceive and produce an anti-jellyfish barrier net named Medusa net. It is a patented anti-jellyfish and anti-algae barrier boasting European and international patents. The floating part is designed to prevent the passage of jellyfishes, even in the presence of wind and waves. The openings located on the floating part are intended for the inspection and handling of the floats.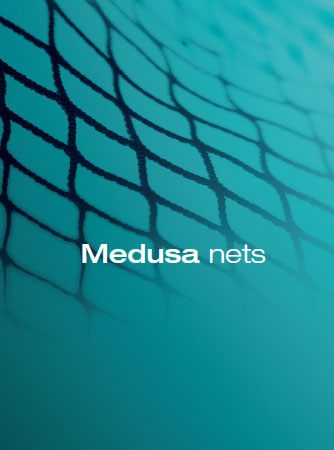 The underwater part consists of a mesh net, woven with high-tenacity UV-ray treated fibre which works as barrier against jellyfish, while allowing the current to flow, thus reducing the trawl of the whole barrier. All along the barrier there are fastening bands to connect anchors as well as bands for beach or sea mooring.
All seams are made with very high quality thread suitable for marine use and sea-water resistant.

The barrier is manufactured in modules which can be easily connected by way of high-tenacity hinges suitable for marine use. Supplied in standard modules of 20 m in length and 3 m in depth and sloping modules of 20 m in length for beach mooring. Other sizes available upon request.
They are available with the following materials