FENCING AND SAFETY NETS
Nets panels for fences.
Finished products: fencing nets for soccer and five-a-side football pitches, tennis courts, wire

The net manufacturer Retificio Ribola manufactures and sells fencing and protection nets online manufactured with Rachel looms and custom- tailored. Resistance to weather conditions and strength are ensured starting from the choice of raw material: the nets are manufactured with high-tenacity UV-ray treated top quality yarns. Each net is knotless and manufactured with lock weave, in order to ensure mesh size and non-deformability.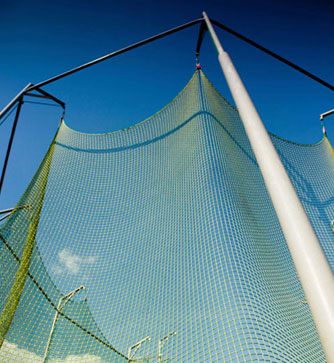 These nets are particularly suitable for fencing intended for soccer and five-a-side football pitches, tennis courts, golf courses and baseball diamonds. Anti-firecracker safety nets and safety nets for false ceilings in gyms are also available.

NET PANELS
The net manufacturer Retificio Ribola offers a wide range of fencing and protection nets for the most diverse applications.
continue »

FINISHED PRODUCTS
Fencing and protection nets manufactured by Retificio Ribola are woven with lock weave, and with high-tenacity UV-ray resistant yarns.
continue »

ACCESSORIES
We also provide the accessories needed for proper laying and installation of protection and fencing nets.
continue »