home
>
Applications
> fall protection nets and sheets for construction and safety
FALL PROTECTION NETS AND SHEETS FOR CONSTRUCTION AND SAFETY
Fall-protection and building industry net panels.
Finished products: debris protection nets, nets to be placed under forks, anti-dust down-proof fabric, scaffolding canvas, blackout canvas for working sites.

The Retificio Ribola net manufacturer has been playing a leading role in the production and online sale of fall-protection and building security nets for construction sites for years. All our fall-protection nets are manufactured with high-tenacity UV-ray treated multifilament yarns, which make them suitable for outdoor applications too. The fall-protection nets for personnel safety are certified according to European safety standards UNI EN 1263-1 and 1263-2.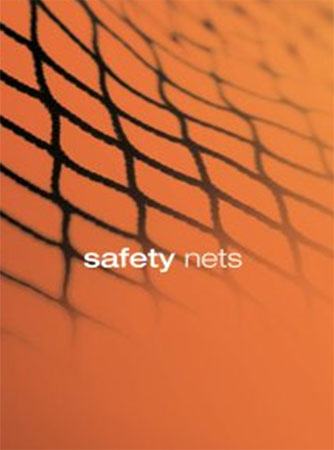 Our manufacturing expertise and know-how in the field of fall-protection nets provides the greatest safety for the working site personnel, thus limiting injuries that may occur in the workplace. We also produce solutions for falling objects, debris protection nets and fabrics for construction sites. Our offer includes a wide range of accessories, thus enabling the user to have all the necessary equipment for installation and ensuring workplace safety.

NET PANELS
Fall-protection net panels are produced with different yarns according to their intended use.
continue »

FINISHED PRODUCTS
Retificio Ribola's safety nets and frames have all the technical characteristics and the certifications needed for ensuring construction site safety and solutions for falling of personnel and objects.
continue »

ACCESSORIES
Retificio Ribola makes fall-protection and debris protection nets, already provided with the appropriate accessories necessary for the installation of the net.
continue »