NET PANELS FOR THE DESIGN INDUSTRY
Retificio Ribola makes its Rachel looms available to weave and manufacture nets for the most diverse applications. Managers of design industries, architects and protagonists of the fashion world will benefit from the work and consultancy of the expert technicians in our manufacturing department, so as to manufacture nets which best meet their expectations.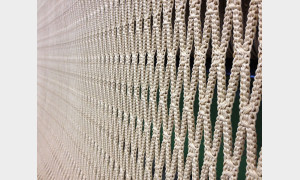 The department is extremely versatile and capable of supplying nets in different colours, raw materials, yarns and meshes. Minimum order 400 kg.
They are available with the following materials