Fall protection nets in panels are produced with different yarns, according to the intended application. We only use high-tenacity top quality and UV-ray treated yarns. The choice of the raw material and the made in Italy weaving process ensure safety, quality and strength. Each net is woven with lock weave and heat set in order to ensure non-deformability over time.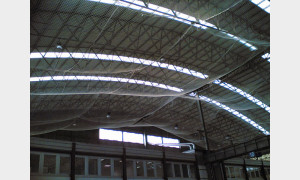 Available in different units, thickness and mesh according to the manufacturing table. Panels sold by the kilo. Minimum order 400 kg.

The Retificio Ribola net manufacturer follows customers in all stages ranging from the choice of the net to finishing and assembly. If required, annual tests are carried out.
They are available with the following materials